Do you love what you do?
There is nothing more satisfying than having a client come see you about their problem skin, and then being able to offer them professional skincare services and products that help. If you can actually make a living doing that, well, we think you're a success.
When we ask our clients why they do what they do, estheticians tell us they got into this industry because they love helping people. They find, however, that one of the biggest challenges to meeting that goal is the "daily grind". They need to fill their book with services (any services) so that they can pay their bills.

What if you were able to fill your schedule with more profitable services, and fuel your spirit by helping your clients fix their skincare challenges?
If your clients aren't already coming to you for knowledge about how to look after their skin, where are they going? You know the answer; they're going to YouTube, Google, and friends who sell door-to-door skincare. They're also hitting retail stores, where they buy the products pushed by the employee who only learned from the last sales rep who visited!
You're a skincare professional and it's time to step into your knowledge and education. Learn to embrace your skills with confidence. You will help your clients make better decisions about what to use on their skin when you can explain the skin's behaviour and how to work with it. Offer your clients the assurance that your skincare knowledge is current, so they can be confident you're making the best recommendations for their skin health.
We're taking it "back to basics" - and more
With our range of education options, you'll have the opportunity to learn more than the basics of professional, natural source skincare. Led by our talented educators, you can learn in several ways that suit your style:

Register for one of our

popular Demo Days

, your monthly opportunity to learn new skills live, from the comfort of your own space.
Stay on top of industry trends and techniques with our blog, bringing you knowledge of natural ingredients in skincare,

exfoliation techniques

for healthy skin, building a

dermaplaning protocol

with Moor Spa professional skincare, and much more.
Make community connections and continue your education with your peers in our weekly industry roundtable discussion,

Esthies and Their Besties.

Topics change every week, reflecting current issues within the spa, esthetics, and wellness world.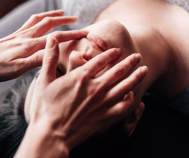 Education from L'Moor combines product knowledge and adaptable skincare protocols, along with key sales and marketing techniques. Whether you're a new practitioner looking for more knowledge of natural skincare, or a seasoned professional wanting a refresher, our Learning Centre has what you need.
Fads will fade, but healthy skin is always in fashion
There are plenty of fad services making headlines in the spa and beauty industry, and it's easy to find expensive training in all kinds of things. Essential skincare has sometimes been overshadowed by technology, but your hands have always been the best tool in your toolbox.

Why trust education from L'Moor?
L'Moor was founded on the belief that well-educated estheticians and spa
professionals are our best clients. Professional training has always been a big part of what we offer to help our clients achieve business success. Now in our 16th year, we've become the reliable resource that you can count on.